Get 'em Chewing Balsa Nut Holder
This is a great toy if you have a bird like my Ollie (male eclectus). He really doesn't like toys very much (unless they are foraging toys) and he never does any chewing. As a consequence, his beak can tend to get overgrown. Ollie is not interested in any parrot chew toys, unless they contain food.  Still, if the wood is too hard of the toy is too difficult, Ollie will give up. With a balsa wood foraging toy, Ollie will gladly do some chewing and destroying wood.  I make these for Pepper (Ollie's sister) too, even though she is a little buzz saw. She LOVES to make a mess chewing this toy.
Here's what you need.
Pieces of balsa wood. I get mine at the hardware store (where they will cut them to my size specifications) or at craft stores such as Michael's. There you can buy a bag full of pieces of balsa wood in various sizes. It's good to get a block of balsa wood at least an inch thick.
A pointed stick, such as a screwdriver or  metal skewer
Ribbon, Paulie Rope, or a shoe lace for hanging
Almond slivers or similar (let me know if you find another good food for this toy)
Here's what you do:
1.) Make a hole at the top of the piece of balsa wood, going all the way through.
2.) Thread ribbon or string through the hole. Tie to secure.
3.) Poke holes all over the piece of balsa wood, about 1/4 inch deep
4.) Insert an almond sliver in each hole, as far as it will go, then break off the end. That way, the bird has to chew the wood to get to the treat, not simply pull it out by the end. (Use as many almond slivers as you feel it's ok for your bird to eat at one sitting)
Here's Ollie enjoying this toy: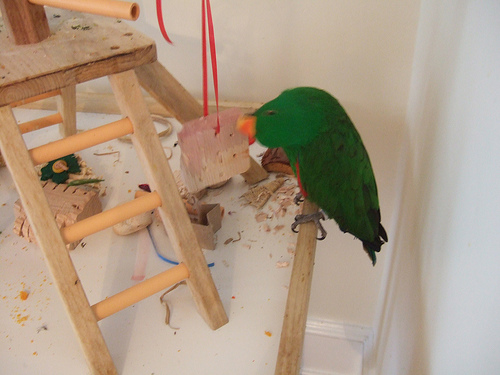 Here's the mess Pepper made from one of these toys: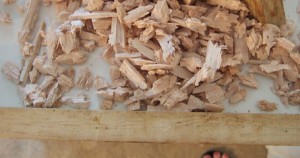 And here is the little avian carpenter at work on the toy: